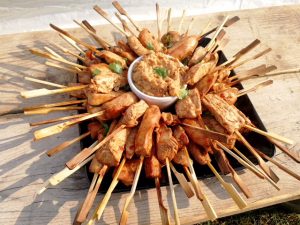 A proud mother decided to celebrate her daughter's graduation, so she contacted Hog Roast Egham for this joyous occasion. On the day, the sun was tucked behind the clouds and there was no sign of rain. The well-decorated backyard was stunning. Helium filled balloons holding on to the fencing swayed in the direction of the breeze. The tables and chairs were covered in white cloth, and crockery lay with napkins ready for the guests.
As the guests settled into their seats, the canapés were served, and our hog was already roasted to a nice orange hue. Its aroma filled the backyard. Mum chose to have a lavish buffet. For starters the vegetarians had a selection of Mini Pizzas and Haloumi Kebabs. As for the meat-eaters, a selection of Smoked Salmon on Fresh Brown Bread, Mini Burgers, and Spicy Thai Chicken Kebabs were available.
When it was time for the main course, a bottle of champagne was popped and a toast was raised for graduate while Hog Roast Egham's slow roasted pig served with apple sauce, stuffing and crispy crackling waited to be devoured. The guests were amazed by how well it was done and we'd even had a few pictures taken. For the vegetarians, there was Crusty Bread Rolls and Selection of Sauces. Three salads with Jacket Wedges selected by Mum were served along with the main course. By the end of the meal, the hog's bone was white!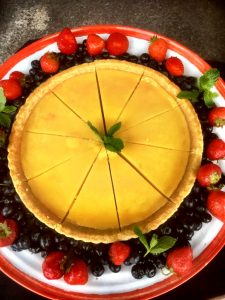 For dessert, lemon tarts with raspberries and cheesecake were promptly served. After everyone had eaten to their filling, Hog Roast Egham's team began to clean up. They were interrupted by the recent graduate with a bit of cream on the corner of her mouth. She complimented our food and service. We were thrilled to see how much she and everyone else enjoyed the evening. That's the best part of our job: happy customers with stuffed bellies.