Hog Roast Redhill were delighted to be asked to cater in the evening at the wedding of Julia and Sam which required catering for a very large wedding party and guests of around 300 people.  Weddings are a speciality of ours alongside corporate and private events but we know that they come in all sorts of shapes and sizes and ultimately, every wedding is different but very special and we always ensure that we add an extra buzz to this special day for the bride and groom and all the guests.
Hog Roast Redhill has a wide variety of menus available for wedding events ranging from an entry level option through to more formal selections and we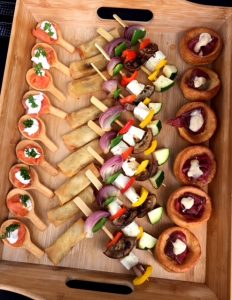 know that the choice of menu for this type of event is crucial to its success.  For Julia and Sam, they wanted a formal Hog Roast option for the evening and with some dietary requirements highlighted.  Our chef for the day Pete discussed the options with them well before the event to ensure that all expectations were met and the pair decided upon Menu 2 which is our canapes and drinks service with a hog roast buffet and dessert.  Julia and Sam also needed some specific options as there would be some non-meat eaters there too and Pete quickly put them at ease and explained that the best option would be our veggie skewers.  One of the strengths of Hog Roast Redhill, alongside the impeccable service and high quality, delicious food, is our ability to adapt and tailor our menus to our clients' specific requirements.
Preparation is the key to success for any event but especially for a wedding as there is so much going on and everyone wants to enjoy the day rather than worrying about things going wrong, hence we always ensure that meticulous planning and preparation occurs to ensure that all expectations are met and we were very clear on what time we needed to arrive and to set up to be able to cater for the guests at 7pm.  Once we started serving many of the guests commented that the meat was delicious and the veggie skewers went down a storm!