Surrey's Most Renowned Hog Roast Caterer
The Hog Roast Surrey team have extensive experience in all aspects of hog roast catering, and we have spent many years treating our clients to memorable dining experiences and superior mobile catering solutions of all manner of events and special occasions in Surrey. If you are looking for high quality, freshly made food for an event you are planning, we can help you to make it a fun and enjoyable experience for everyone with our fabulous food and friendly, professional service. Our delicately roasted hogs are always cooked onsite, so our diners can enjoy the cooking process and appreciate just how fresh our food is. We also make the rest of our dishes from scratch onsite too whilst the hog is cooking, using the best seasonal locally sourced ingredients.
Perfect Catering Solution For Any Party
There are several reasons why we are considered to be the best hog roast company in the Surrey area. We never compromise on the quality of our meat and we only ever source our pork from producers who use the most ethical methods. Our high quality pork is then placed in the very capable hands of Hog Roast Surrey's talented chefs, who invest the time and care needed to make sure it is retains its natural flavour and that it is so tender that it is falling off the bone. We always freshly prepare our pork on-site and spend several hours cooking it to perfection using our own state of the art hog roast machines. Our hog roast machines are always a great focal point of any event and our diners love gathering around to savour the aroma of the slow roasted meat as it is in the final stages of the cooking process and watching our chefs skilfully carve it before everyone tucks in.
Special Occasion Catering and Hog Roasts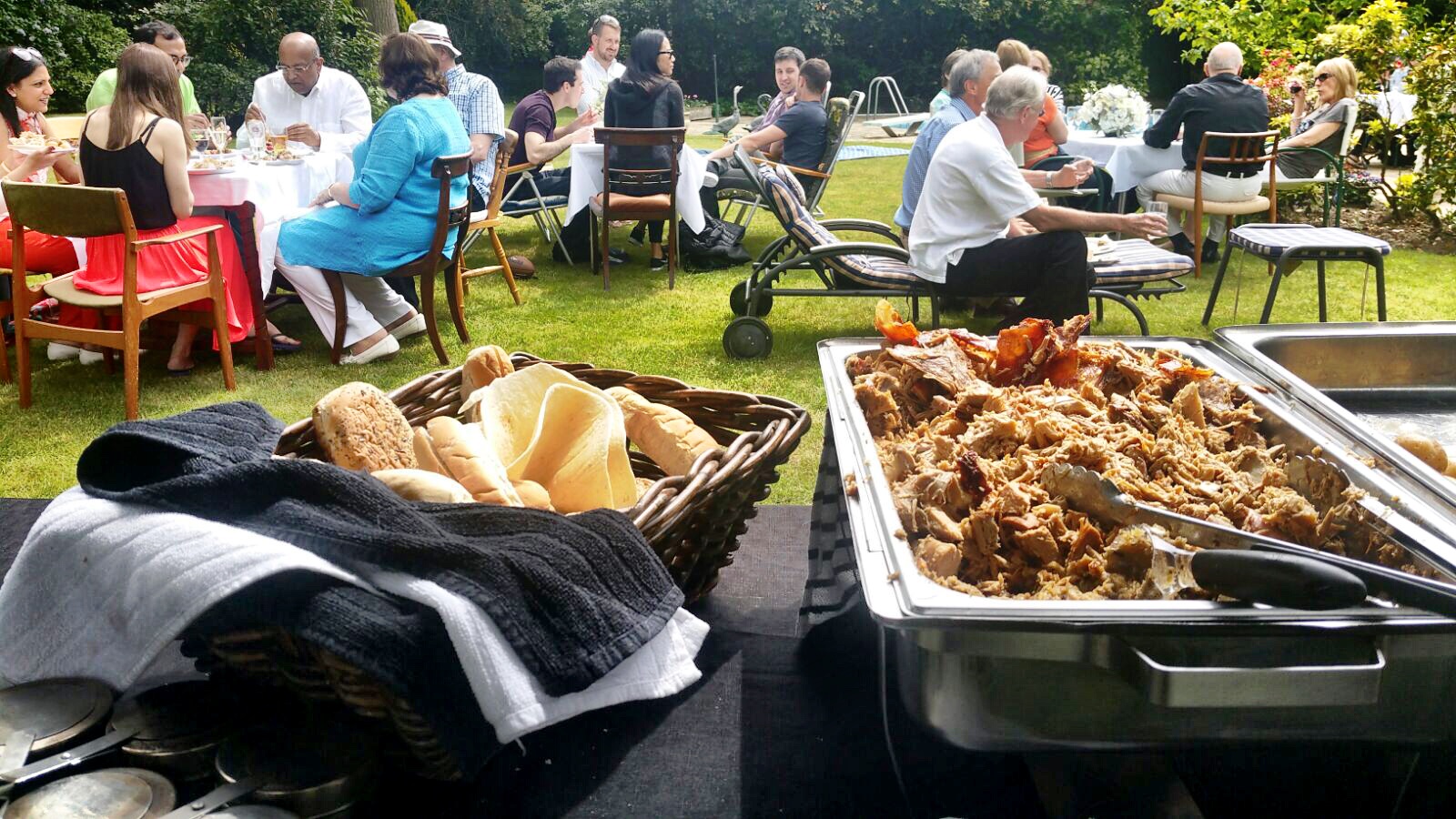 Here at Hog Roast Surrey, we may have made a name for ourselves with our delicious slow roasted pork, but we also offer different styles of well-rounded and varied menus that have something for everyone. We are continually evolving and adapting our approach in order to stay ahead of the game and ensure we meet the needs of modern diners. We offer a range of alternative meats, all prepared using the same unbeatable slow-roasting method, as well as an array of vegetarian, vegan and gluten-free dishes. Our self service buffets are ideal for informal gatherings and family celebrations, whereas our more formal 3 course meals with table service are ideal for corporate entertaining and extra special occasions, such as wedding receptions.
Hog Roast Surrey's flexible approach to catering isn't just reflected in the wide range of menus we offer. We are also able to cater in any type of location and for any number of people, whether you are planning a large outdoor event or smaller indoor party. Wherever we are catering, we always prepare every dish from scratch at the venue using locally sourced produce that is equal in quality to our superior pork. So, if you choose us to cater for your event, you can be assured that every part of your menu will be freshly made from the finest ingredients whilst also not having to worry about meeting your guests' diverse dietary needs.
Hire a Hog Roast Machine in Surrey
As well as offering you tempting catering packages for any occasion, the Hog Roast Surrey team can also give you the opportunity to have a go yourself. We have a range of cutting edge hog roasting equipment available to hire and our expert team will always provide you with the machine that is most suitable for your needs. We will deliver it to your venue, pick it up again after your event, and provide you with all of the advice you need to get you up and running and feel confident in operating it yourself. Even if you are a hog roast novice, with our specialist equipment and support you will be able to produce your own perfectly cooked pork to wow your guests with for any type of event you are organising.
If you want a stress-free and high quality mobile catering experience from a company who are the local leading experts in our field, not to mention a wide choice of menu options that cater for all tastes, get in touch with us here at Hog Roast Surrey to discuss your requirements.