Our professional chefs and team members at Hog Roast Redhill are all highly trained and fully knowledgeable about all of our fantastic catering services and you'll see that hiring us is the best choice you could make for you and your guests. It can be fairly stressful planning a function for a special occasion but we can help to take some of that stress off your shoulders by taking the reins when it comes to providing the food. Our extensive menus are full of additional and alternative options, which means you will be able to satisfy all kinds of tastes and appetites, and you won't need to worry that guests with special diets aren't catered, as we certainly will with advance notice. We aim to satisfy the hunger of all your guests, and not just the majority.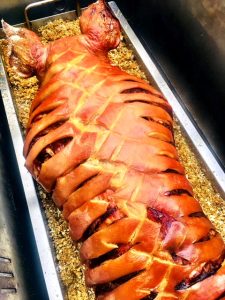 Our chef recently spent several hours locally with Tom, Bridget and their family members, catering an intimate party to celebrate their engagement. When Tom called Hog Roast Redhill, the first thing he asked us was if we could cater a gluten intolerance, as it was important for him to ensure everyone could eat the food provided. While we can certainly provide alternative options for special diets, we let Tom know that if they were thinking of having our pigs in buns served at the party, then a gluten-free guest could enjoy them all the same, just that we would bring along gluten-free bread rolls for them. Surprised and more than happy, as it turned out that it was Tom himself who had the intolerance, he booked us in and we looked forward to cooking at the family home at the weekend.
With 10 guests invited, our Hog Roast Redhill chef could easily cater this event by himself, and on Saturday he arrived at Tom and Bridget's home and set up the hog roast machine under our gazebo so he could start preparing the meat. Once done, the hog sizzled away and would do for a few hours. Nearer the time of service, which would be 3pm, our chef dished up the apple sauce and stuffing, sliced the bread rolls and got the carving knives ready and then the guests started to arrive, excited to try a slice of heaven.