Fancy a delicious Sunday lunch without the effort? Duh, what am I saying, of course, you do! Well, at Hog Roast Rudgwick we've got you covered. Offering everything from traditional spit roasted pork spreads (or any other meat that takes your fancy) to tasty veggie and vegan dishes, we have a vast selection of flavoursome foods that are guaranteed to go down well with the whole family.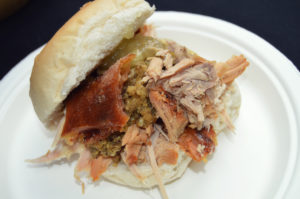 And now that our Gourmet Delivery service is here to stay, you won't even have to make room for our catering crew to set up our equipment! Instead, we'll have your chosen meal delivered straight to your doorstep. Don't worry, we've worked hard to ensure that the process of ordering is very straightforward, and our team will drop off the package of gorgeous food at a time that's most convenient for you.
So, whether you've been craving one of our famous spreads for a while now, or are simply wanting to treat the whole family to an indulgent lunch, Hog Roast Rudgwick is sure to have something to tickle your tastebuds.
Recently, our customer service team were approached by one of our regular clients, Gary, who was keen to try out our brand new service option for himself. As a big fan of Sunday lunch and an even bigger fan of Hog Roast Rudgwick, he could barely contain his excitement when it came to placing an order which we dropped off last weekend.
For this occasion, the client had opted for a feast which consisted of fork-tender carvings of juicy, slow-roasted sirloin of beef with horseradish sauce. And, to complete the meaty feast, light and fluffy Yorkshire puddings and warm new potatoes roasted with rosemary and garlic were included on the menu, which was topped off with a drizzle of our homemade, red wine gravy. As a finishing touch to the meal, Gary had also asked us to include our chef's special sticky toffee pudding with a tasty toffee sauce.
As always, Gary was thoroughly impressed with the service and the food that Hog Roast Rudgwick provided, and he's already looking forward to his next hog roast treat!