Hog Roast Grafham catering is ideal for all kinds of special occasions, including corporate functions, milestone birthday parties, christenings, retirements, engagements and weddings, and anything else that you can think of where tasty homemade food is the order of the day. We've spent many years now catering for both large and small gatherings and for all numbers of guests, so whether you're planning an intimate get-together with your closest friends or family members, a huge affair where hundreds of people are invited, or anything at all in-between, our experts will be more than happy to help.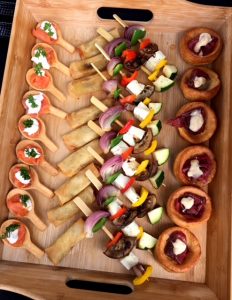 You're welcome to consult us about your particular menu or simply tell us what you're after and you can mix and match mains with sides and add canapés, starters or puddings if you prefer, but one of our own Hog Roast Grafham standalone menus may instead be the perfect solution for you. We can make our Loaded Fries, which are smothered with meat, slaw, cheese and jalapenos, and you get to choose the meat from beef brisket or pulled pork and the slaw from a zesty or spicy one. Our Alfresco may be more your style, though, where we serve three courses including Italian antipasti starters, a hog roast with various sides and then two homemade desserts.
If you fancy grilled meats and sides, try our Traditional Barbecue instead, which features British beef burgers, spare ribs, chicken kebabs and our chef's own gourmet sausages, accompanied by fresh salads and homemade coleslaw, as well as chips or sweet potato fries or some of both. Our Southern Slow Roast may be just the ticket instead, however, where you get to dine on a trio of marinated meats (choose from minted lamb, pulled pork, spicy chickens, brisket of beef and spare ribs) and four hot or cold sides (such as mac and cheese, corn cobettes, a Greek salad and potato salad).
For a menu of your own making, help from us to create one, or to choose one of our standalones, give Hog Roast Grafham a call today and we'll cater for you and all of your guests.