Hog Roast Rudgwick had the absolute pleasure of catering for a ruby anniversary! Wow 40 years, congratulations John and Janet!
John and Janet had gone all out with decorations for the hall, obviously going for the 'ruby' theme of red with a little bit of gold to mix it up. It looked fabulous. In addition, Hog roast Rudgwick had the opportunity to hear a local choir and 100-piece orchestra which was such a treat for the catering mangers and their team.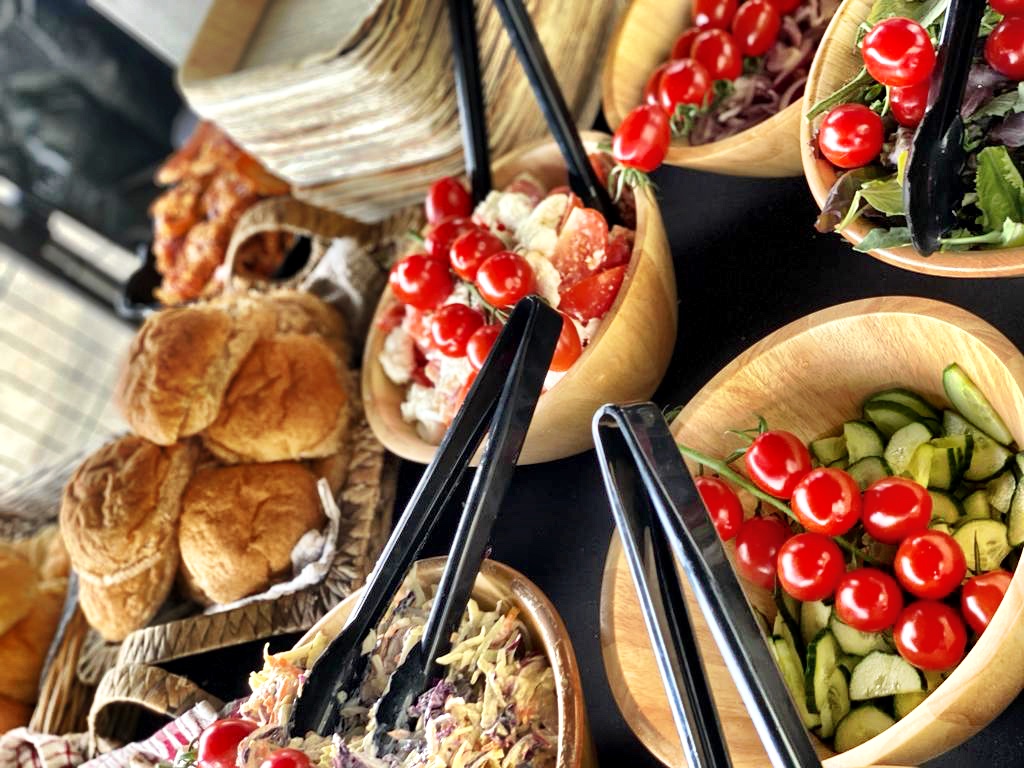 The menu to celebrate this ruby wedding was Hog Roast Rudgwick's traditional hog roast accompanied by three salads and hot new potatoes in a blanket of mixed herb butter – the perfect menu!  John and Janet chose mixed salad which is a range of fresh leaved lettuces, a mixture of beef and vine tomatoes, juicy bell peppers, cucumbers, spring onions and celery. The second salad they chose was a mixture of juicy cherry and plum tomatoes with added fine Italian hand-torn buffalo mozzarella, basil leaves and a drizzle of virgin olive oil. The third salad they chose was homemade coleslaw; shredded white cabbage mixed in with grated carrots and sweet red onion as well as a sprinkling of fresh grated lemon zest. All served on crisp white crockery with beautifully patterned knife and forks. 
Not only did John and Janet indulge in Hog Roast Rudgwick's amazingly tasty spread, they also treated themselves to a selection of desserts with hand dressed plates and served with the option of pouring cream. The first dessert option was a decadent and rich chocolate cheesecake served with a side of raspberries to make it extra special. The other dessert was a vacherin of strawberries; the base is a light, airy meringue filled with the combination of smooth and silky mascarpone and whipped creams and topped with fresh strawberries, a fresh mint leaf and a chocolate swirl. The desserts don't just look the part, they are a party in the mouth, an indulgent pleasure of just the right naughtiness. 
John and Janet were that impressed with the food and service from Hog Roast Rudgwick that they sent them away with a massive hug and a big slice of their beautifully light ruby wedding celebration cake.