For Victoria's surprise sweet 16th, her parents booked us months ago to cater the celebration at a local pub. Unfortunately, the venue cancelled at the last minute and so her parents were very stressed trying to find an alternative place to hold the party. We asked if they knew anyone with a big enough back garden for the number of guests and they were relieved to find a friend who could hold the party at their home. As a hog roast Guildford catering company, we are fairly adaptable to what you need, as our hog roast machines are ultra-mobile due to the unique steering mechanism and are small enough to fit through many side gates to get into people's back gardens.
So on Sunday afternoon, our team set off to the new venue deep in the countryside. The garden was being decorated beautifully as we set up the gazebo over the hog roast machine. Once the pig had been scored, we just needed to add water and salt and turn the machine on, and then one of us had to keep an eye on it as it cooked. Meanwhile, we chatted to the hosts and watched as the garden was transformed into Hollywood for the themed birthday celebration. As well as the obligatory red carpet, there was a stage set up for speeches and Oscar statues to be won in various games. Plus lots of famous faces appeared in the garden, from Tom Cruise to the Kardashians, but in the form of life-size cardboard cutouts, posters and banners.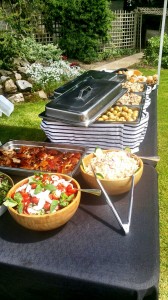 By the time Victoria arrived to her party by limo, the guests had all arrived and were waiting in the back garden, ready to surprise her. When she stepped out of the limo, Victoria knew there must be a hog roast Guildford waiting for her as she could smell the fantastic aromas already! She was still surprised by her guests, however, and by the party theme itself.
We served plenty of superb hog roast Guildford rolls and fresh salad dishes to the guests on Sunday and it was a big hit with everyone – especially Victoria and her family as they have since booked us in for their Christmas party.