We're highly experienced in catering so many different kinds of parties and events here at Hog Roast Wrecclesham and wedding receptions are a huge part of that for us. We believe that if you're planning your wedding, letting someone else take the reins when it comes to the food is really important, as it's such a significant part of your day and the memories to be created, and you already have enough to think about. Of course, you'll need to know that you have a team of professionals who will do you proud, impress your guests with fantastic food that you will all remember for years to come, and who will go the extra mile to ensure your special day is a success – and that's just what we do.
First of all, you'll be greeted by our friendly staff when you call or pop in to see us about planning your wedding menu, and we will talk you through everything that you can think of, including our various Hog Roast Wrecclesham menus and how you can even design your own by combining ours or by letting us know exactly what you want to be featured on the day. On the day itself, you'll see our highly professional team not only cooking good food but looking good too – we wouldn't dream of turning up to your special day looking anything less than pristine. The sight, smells and taste of the food we prepare and cook fresh on the day will surely be the highlight of the night.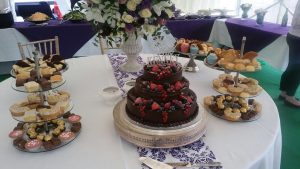 When we recently catered Gemma and Rob's wedding, that's exactly what Gemma told us at the end of the night – that the centrepiece Hog Roast Wrecclesham that we cooked from scratch on-site for several hours was the highlight of her wedding – well, apart from the bit where she said, "I do"! We stripped the hog clean as many of the guests returned for seconds and more, and the other dishes we provided (including lovely canapés, chicken soup, seasonal vegetables, salad dishes, fresh bread rolls and roasted new potatoes in garlic and rosemary) all proved to be a big hit, too. How the guests had room for the lemon tart and wedding cake too, I'll never know, but by the time we cleared away, there was nothing left in sight!