When we cater an outdoor party in England in the summer, it's quite often with one of our centrepiece hog roasts of course, which we slowly roast for hours on end, and regularly with one of our spit roasts, such as lamb or beef or a few turkeys or chickens, or even a barbecue. Nevertheless, one of our increasingly popular options with customers is our Hog Roast Esher Private Party Menu 2, which is also known as the Southern Slow Roast Menu. By letting you choose three different meats, which we first marinate in our secret recipe rubs, and then roast slowly at a low temperature for hours before your special occasion, as well as four different accompanying dishes, you can impress your guests with a great variety of dishes and ensure that everyone can enjoy the food that we serve.
We also offer a vegetarian option with the Southern Slow Roast Menu, such as grilled veggie kebabs, which is full of halloumi chunks, mushrooms, tomatoes mixed peppers, courgette and red onion, and can even be enjoyed in wraps or bread rolls, together with our tzatziki sauce. We clearly love to provide variety and choice with this amazing menu, and two of our regular customers asked us to cater a special celebration with just that over the weekend.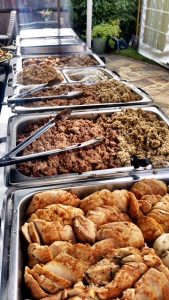 For Charlie and Rosa's engagement party, the couple wanted to celebrate with family and friends being treated to our Southern Slow Roast. Having enjoyed this menu earlier this year at their spring garden party for Rosa's birthday, they decided it would be perfect for this special occasion too, but they wanted to try different dishes this time. By choosing our Hog Roast Esher barbecued pork butt, Creole-spiced lamb and Cajun-spiced whole roasted chickens, Charlie and Rosa would ensure that various carnivores' tastes would be met on the day, and a vegan option of our veggie skewers without halloumi would also mean that everyone invited could eat our tasty homemade offerings. With the addition of a Greek salad, all-American mac and cheese, our homemade coleslaw and some sweet potato wedges, the food was sure to be a big hit.
On the day of the party, our Hog Roast Esher team roasted the meats in the pretty back garden, hours before service. By the time all the guests had arrived, we had plenty of food all beautifully cooked and put together and the queues began.