The Hog Roast Redhill team found ourselves cooking at a high altitude recently, when we were asked to provide some of our excellent slow-roasted pork for a group of climbers! The plan was for them to complete one of their traditional summer climbs, with us being there at the summit to greet them with a hearty hog roast butty! As intrepid as we are, we didn't scale the mountain ourselves however, instead we opted to get there by road, taking with us our robust Titan machine, who as its name suggests, can be easily taken over rough terrain to delight people with our perfect pork in even the most remote locations!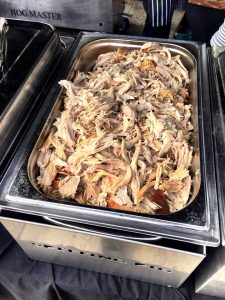 Proving once again that Hog Roast Redhill are the most mobile catering company around, reaching the location was no problem for us, but we imagined the climbers wouldn't find it quite so easy! They were all very experienced though, so we were confident they would all make it safely up here in time for lunch, especially as they got nearer to the summit and had to alluring smell of the pork wafting over the top!
We spent a great morning cooking in the open air with such a fantastic view and we timed the cooking for the meat to coincide perfectly with the hungry climbers emerging triumphantly from the cliff face. We were right about the smell of the pork-it had reached them about 3 quarters of the way up and spurred them all on to give one last push to reach the top! As we served them their much-anticipated succulent pork and crispy cracking sandwiches, they told us this had always been one of their favourite routes to climb together and one of their favourite views when they got to the top. They thought it was great that they could enjoy some delicious, freshly-prepared food at the top, and until Craig, who organised the lofty lunch, contacted Hog Roast Redhill, they never dreamed it would have been possible! Craig got a huge pat on the back from his climbing chums for thinking outside the box, and everyone thanked us profusely for giving them a great lunch in their favourite location!