I've just returned from catering a fun kids' birthday party and the screams are still ringing in my ears! Thankfully the screams were nothing to do with the fabulous hog roast Ockley we provided (some children can be a little sensitive at first when they see a roasting pig, but we try hard to put them at ease). No, the screams were because of the creepy Halloween theme!
Now that Angelo has turned 8, he asked his parents if he could have a scary kind of a celebration this year, as it would be mean two Halloweens of sorts and it's his favourite time of the year. With his birthday being so near to Halloween (otherwise known as Hallowe'en, All Hallows' Eve, Allhalloween and All Saints' Eve, which Angelo told me at the party because he knows everything there is to know about it!) Angelo said he would love to be able to celebrate with ghosts and ghouls, witches and wizards and vampires and zombies twice this year. Adding a spooktacular hog roast to the equation was his parents' idea, and fit the theme brilliantly.
When we turned up at the family home early on Saturday morning, we had plenty of time to roast the big chunk of a hog to serve for lunch. As well as plenty of friends and family, there were no less than 30 children under the age of 9 invited and lots of parents, so we ensured that we had more than enough meat to go round. While Angelo had seen pictures of roasting hogs online and wanted one with its head on and with an apple in its mouth for the full Halloween effect, his parents decided against it because of the much younger kids, so we had arrived armed with a 50kg headless hog and set to work to create a slow-cooked masterpiece.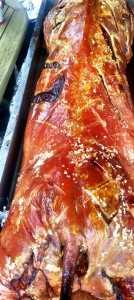 Serving the beast at this ghostly gathering was a real pleasure, as it had cooked beautifully and the compliments we received encapsulated that. The stunning yet eerie decorations and costumes gave me lots of ideas for my own family Halloween party this year, so I left Angelo's birthday excited for October 31st myself, leaving behind no tricks, just the treat of the hog roast Ockley leftovers.