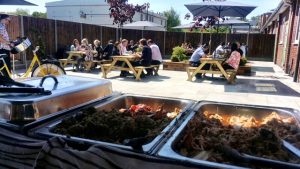 Hog Roast Byfleet caters every kind of private party that you can think of, from birthdays to christenings and wedding receptions, but we are also renowned for providing gorgeous food for corporate events, too. Just recently, we were asked to cook a hog roast for Merial Animal Health (which is now part of Boehringer Ingelheim Animal Health). Boehringer Ingelheim Animal Health is one of the largest veterinary pharmaceutical companies in the UK, and with the acquisition of Merial, has become the second largest animal health business in the world.
We've catered many special occasions in the lovely village of Pirbright over the years but on this day, we would be providing plenty of scrumptious food for 70 guests at the Merial premises on Ash Road. Our dedicated Hog Roast Byfleet team members are proud to offer many options for any guests who might have dietary restrictions, and for this event, we were also asked to cook veggie skewers in addition to making our signature pigs in buns. Vegans and vegetarians tend to love our veggie kebabs, which feature lovely seasonal vegetables like mushrooms, assorted peppers, courgette, and onion, and non-vegans often devour our halloumi kebabs as soon as they're served. Whatever diet you need catering, Hog Roast Byfleet can ensure that suitable food is provided and that your guests' hunger will be satisfied, no matter whether they're carnivores or herbivores, or even gluten-free!
We would be serving the food at lunchtime, so on the day of the event, we arrived in the morning to prepare the meat and set up our equipment. We would be serving alongside a stall that would be providing delicious, fresh fruit smoothies to the guests, as well as next to some talented guys playing steel drums. It felt like we had been transported to the Caribbean, especially with the great weather too.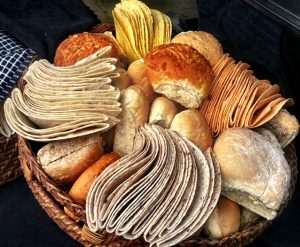 By 1.30pm, the guests queued up for a taste of our hog roast rolls, filled with fresh, hot meat and crackling, apple sauce and stuffing (both homemade), as well as the yummy veggie skewers, then returned to their picnic benches to fill their tummies, wash down our excellent food with a refreshing smoothie and listen to the drummers in the sun.