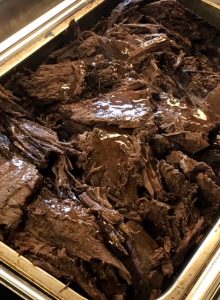 More and more golf clubs these days are trying to move with the times and shake off their image of exclusivity and 'gentlemen only' by encouraging more women to join up. This was certainly the aim of the golf club who hired Hog Roast Godalming recently to provide the food for a ladies' night at the club. Their plan was to attract more females to the club with a free golf lesson, followed by complimentary bubbly and a sophisticated spread.
The club manager was impressed with our ability to provide such a high-class menu and prepare everything fresh on-site. He was pleasantly surprised at the extent of our options and how we consider every single detail rather than just focussing solely on our main selling point, which is of course our ability to provide such excellent slow-roasted meat. He opted for some classic flavour combinations with our handcrafted canapes, including smoked salmon, pate encroute and wild mushroom bouchees, followed by slow-roasted sirloin of beef, served with Yorkshire puddings and swathed in our homemade red wine gravy. Confident that our menu would wow the ladies and help him to convert them into golf fanatics, he left the preparations in our capable hands!
The promotional event drew in quite a large crowd and as the tours and golf lessons were coming to an end, the Hog Roast Godalming catering team ensured the canapes were beautifully presented and ready to greet the golfing girls as they were shown into clubhouse. With the opening nibbles working their way round the room and going down a treat, our precise timing continued as the chef carved the juicy beef, ready to be served alongside the seasonal vegetable and rich gravy. With our friendly and efficient staff making sure everyone's needs were met, the manager could concentrate on getting as many ladies as possible signed up as members. The event was a great success and with a little help from Hog Roast Godalming providing food that was definitely above par, the golf club managed to achieve its aim of becoming more modern and inclusive with this new influx of female members!