Vintage style weddings are all the range these days as more and more couples (well brides mainly!) love the elegance and grace of a bygone era which lends itself perfectly to a simple, yet sophisticated wedding day. What are the three key ingredients of any successful vintage-themed wedding? Lace, pearls and a hog roast reception of course! Admittedly, for people who aren't very clued up about the service we offer, a hog roast may seem a bit incongruous for a vintage themed wedding, but that's the beauty of what we do! We can adapt our style and menus to suit any type of occasion, which is why our food fitted perfectly with the grand art deco ballroom that was chosen as the venue for the vintage wedding reception that Hog Roast Alfold catered for last week!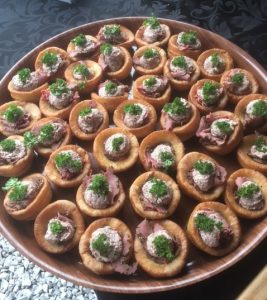 With the assistance of our experienced event planners, the bride and groom opted for one of our decadent 3 course wedding breakfasts, plus canapes and a drinks reception for their 200 guests. This type of menu of timeless classics with a modern twist, is what we do best. There were fedora hats and fishtail skirts galore as our friendly, professional front of house staff served the bubbly and delectable nibbles, including mini roast beef and Yorkshire puddings and light mushroom bouchees.
As the guests took their seats and the best man's speech was getting laughs in all the wrong places, Hog Roast Alfold were ready and waiting to serve the starter of hearty homemade soup and freshly baked breads rolls (with a gluten free option for the three guests who had this particular dietary requirement).
As this was a spring wedding, the newlyweds selected locally-reared spring lamb infused with rosemary, in addition to a traditional hog roast for their main course.  Once again, our organised team were ready to serve at exactly the right moment. Our wedding events are so well-planned that we always time everything to perfection and serve each course at just the right pace, allowing the guests to savour every dish, without having to wait too long for the next one.  With the reception in full swing, we provided the perfect end to a perfect day with our selection of desserts and we even dressed and served the wedding cake! The bride and groom were thrilled with the quality of our catering and how well Hog Roast Alfold's food complimented their vintage theme!