Unfortunately that is summer officially at an end, and though we sometimes get a little bump in September with the weather, the holiday is season is over. As a caterer that will unfortunately mean less of the outdoor events that Hog Roast Cranleigh has loved catering all summer long. We have brought you, our customers, incredible outdoor dining experiences with our roasts, our gourmet barbecues, our alfresco menus, our grazing tables, platters, canapes services, and our summery desserts. We don't want it to end any more than you do.
After all, our name is Hog Roast Cranleigh because we have such an affinity for the hog roast in its traditional, authentic form, but typically with the weather as it is in this country we rarely get to properly cook the hog roast outside as it is traditionally done. We are lucky enough to have a range of our designed mobile roasting machines that do in fact let us cook the hog roast indoors or out, but our preference will always be to get it outside where it's full spectacle can best be realised! Summer provides that rare opportunity, and we are always so happy to be able to wow customers with it when they make that choice.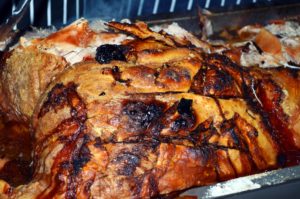 This summer blessed us with some excellent weather to be able to conduct our services outdoors. Hundreds of events all summer long were treated to the full spectacle of the hog roast cooking outside in its proper fiery and smoky form. And don't forget the many barbecues we had along the way too. The British barbecue is a classic in this country, and our gourmet twist on your British meaty favourites supplied endless flavour and great tastes to our customers this summer. Of course all this doesn't have to go away just because the sun might be. Even when we can't cook these outdoor dinners outside, our adaptable roasting machines allow us to conduct much of the same dining indoors too, so you can still get your fill of roasts and barbecues all autumn long too!
Summer may be over, but the catering season isn't, so you can still come to Hog Roast Cranleigh today for all your event dining needs through autumn and into winter too!