We know it seems like it gets earlier and earlier each year, but with Halloween past us and the clocks turning back to give us those darker, wintery nights we here at Hog Roast Abbotswood can't help but have one eye on Christmas now! Besides, with the way things ramp up for us around the festive period we always have to ensure we are fully prepared for the oncoming wintery blizzard. That readiness extends to you, too, our dear customers as we always want to ensure that you get in ahead with bookings before it is too late. This year has crept up on us all, it may be fair to say, and with the onslaught of bookings we get in this festive period we always urge our loyal customers to be thinking about their Christmas events as early as possible. We're already being inundated – which is always brilliant to see, don't get us wrong!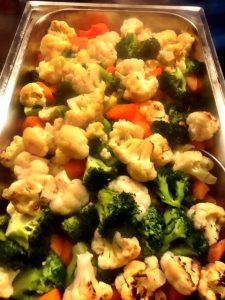 We're already tuning up the Mariah Carey here at Hog Roast Abbotswood HQ and getting ourselves into that jolly Christmas spirit as we continue to work hard preparing and planning out our Christmas bookings. We love being able to bring the Christmas menu back out at this time of year and get properly in the mood for some good turkey and pork roasts, pigs in blankets, sprouts, stuffing, mince pies and all the rest of it. It truly is the most wonderful time of year!
Whether it is for an end of year staff party or for your family Christmas Hog Roast Abbotswood has everything covered for a jolly good time at your event. See out the year in style with our exceptional services and raise a glass with us to a better new year- things can only get better after all! For your Christmas events we have a special service designed specifically for that good Christmas cheer, and to give you all the usual trimmings and jolly spirit of this festive time. Think of this as our Christmas gift to you this year as we take care of the Christmas cooking so that you can just enjoy your gift giving, unwrapping, and family time in festive peace.
Make it a jolly Christmas. Make it a Hog Roast Abbotswood Christmas this year!