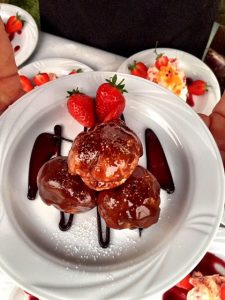 Sometimes at Hog Roast Ashtead, we even exceed our own expectations! As a team of professional, highly trained, dedicated staff, we always strive for perfection and work hard to create culinary wonders that will impress our customers and their guests no end. For a garden party that we catered locally in Ashtead itself just recently, we cooked some real delights that looked awesome and tasted even better than they looked.
Our customer asked Hog Roast Ashtead to cook our sought-after Southern Slow Roast Menu for a birthday party. While we have several menus for our customers to look through, we also advocate designing your own by mixing and matching options or working with us to create the menu that you desire for your party or event. Nevertheless, sometimes one of our own menus is already the perfect choice for a customer, and for this garden party with 30 guests, the Southern Slow Roast Menu was just that.
With your choice of three marinated meats roasted low and slow and four accompanying dishes, as well as delicious sauces, this menu leaves no one hungry! You can select three meats from some delicious Louisiana sticky pork ribs (which just fall off the bone), our yummy and spicy Creole pulled quarter of lamb, a very tasty barbecued pork butt, our amazing Texan beef brisket which is marinated for an entire 24 hours or some finger licking, Cajun-spiced, whole roasted chickens. The accompanying dishes include a selection of fresh salads, sweet potato wedges, mac and cheese, corn cobettes, and jacket potatoes. Whatever you choose from this menu, it's all sure to be a big hit with your guests.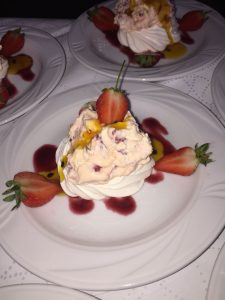 Our customer for this party decided on the chicken, ribs and pork to be served on china plates, alongside a green leaf salad, a tomato and mozzarella salad, wedges and coleslaw. This menu also has a vegetarian option, which we served on the day too – lovely veggie skewers, freshly prepared using quality vegetables. If that wasn't enough, our Hog Roast Ashtead team also served some gorgeous-looking desserts of meringue, profiteroles and fruit salad. By the end of service, there were plenty of satisfied guests and we quietly cleared away, more than content to know that we had exceeded expectations.