Here at Hog Roast Dorking we love wedding catering but what's more we love wedding anniversary catering. There's something so special about being asked to cater for a couple's anniversary as they have spent so many years together and it's lovely to see they are still happy and in love many years on.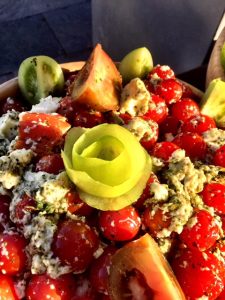 This weekend we catered for Darren and Fiona's twenty-fifth silver wedding anniversary. When the pair got married twenty-five years ago they were young and didn't have much money to secure the wedding of their dreams and so wanted to use this anniversary to recreate that magical day and make sure they had everything they always wanted. One of those things was they wanted a brilliant wedding caterer and that's where Hog Roast Dorking came in! The couple asked us to prepare a delicious hog roast for around one hundred people and we would be serving in the local town hall that they had hired for their anniversary. Of course, we were delighted to be asked and set to work designing a menu that would make their day extra special.
The couple had decided they wanted a traditional spit roasted hog to provide the main centrepiece and to awe all their guests. Along with this we prepared a couple of seasonal salads that included a Waldorf salad, crispy Thai salad and our delicious tomato and mozzarella salad that is perfect for any occasion. As the hog would be served in freshly baked rolls all that was needed was some of our delicious homemade applesauce and crunchy crackling to top it all off.
Once everyone had eaten and agreed how delicious the food was, Darren stepped up to make an announcement. He asked Fiona to renew their wedding vows again next year as he said their anniversary had been so special he wanted to give her the wedding she deserved all those years ago. This brought a tear to our eyes and then we were even more overwhelmed to be asked to cater for the couple in a years' time with another Hog Roast Dorking when they renew their vows!