With a truly scrumptious Hog Roast Earlswood standalone menu, we can do all the hard work catering your next party or event while you sit back and take all the credit – and you can dine together with your guests on the day too. We have some amazing options on offer, including our Southern Slow Roast, Traditional Barbecue, Alfresco and Loaded Fries menus, and any one of these will surely delight everyone you're inviting and we're sure it'll be the talk of the town for a long time to come.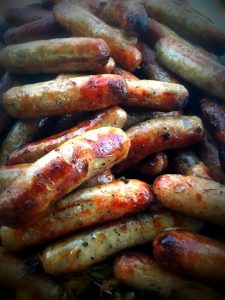 Our Southern Slow Roast gives you three mains of marinated meats and three side dishes too, and you get to decide which ones yourself when you book. Select a trio from BBQ pork butt, minted lamb, spare ribs, spicy chickens and beef brisket, then a trio from coleslaw, potato salad, seasonal vegetables, corn cobettes, mac and cheese, fries, roasted baby new potatoes, a Greek salad and a green leaf salad. If you fancy our Traditional Barbecue, it's served at any time of the year and not just during the summer months and features handmade British burgers, gourmet sausages from our own kitchens, spare ribs and chicken kebabs, served alongside salad, coleslaw and chips.
How about our Hog Roast Earlswood Alfresco instead, which is a three-course meal that comprises Italian-style starters of fine meats, cheeses and breads, followed by a hog roast centrepiece that comes with hot and cold sides of salad, coleslaw and potatoes, and then two desserts of your choice to finish it off perfectly. Then there's our Loaded Fries, which are just that – fries that are loaded, and with gorgeous toppings including your preference of beef brisket or pulled pork, either a spicy slaw or a zesty one, and then oodles of melting cheese and jalapenos to boot.
We always love to cook up a storm or two with our homemade food, so whether you decide on one of our tasty standalones menus or would rather create your own menu from scratch with us, Hog Roast Earlswood are the ones o call, so get on the phone today and book in your next special occasion.