With so much to organise and no doubt plenty of well-meaning friends and relatives eager to offer their advice and opinions about every aspect of your wedding, it can be difficult to know which way to turn, especially when it comes to the catering for your big day. Not only do you want your wedding menu to be perfect for you and your significant other, you also need it to tick all the boxes for your guests, as well as being on point with the venue and your budget. If you want to achieve the ideal balance with your wedding day menu, you need a professional team of expert wedding caterers on hand to do it all for you!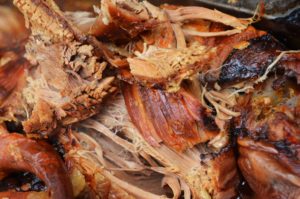 Here at Hog Roast Compton, we offer varied, versatile and stylish outdoor wedding menus to suit all tastes and styles of wedding reception from small yet perfectly formed to large scale celebrations and grand parties. We will design a bespoke wedding menu that is befitting to this major milestone in your life and as unique as your special day itself.
Informal alfresco wedding catering
If you would prefer a more lowkey wedding reception, we offer simple yet delicious hog roast buffets with a wide range of sides and salads available. Lowkey certainly doesn't mean basic though if we are doing the catering. You and your guests will be treated to an elegant spread and the best hog roast cookery in the area for your big day.
Family friendly feasts for weddings of all sizes
We provide different meat choices, a myriad of different flavour sensations across our inventive selection of freshly made starters, sides, salads and desserts, as well as offering tailored catering for different diets and food allergies, including vegetarian, vegan and gluten-free options.
Formal fine dining wedding menus
A more opulent option if you would like to pull out all the stops – our fine dining wedding menus feature delicately handcrafted canapes inspired by flavours from all over the world, chic 3-course meals with table service, the opportunity to have your wedding cake dressed and served by the Hog Roast Compton team, as well as options for evening buffets too.
Your dream wedding menu can become a reality if you hire Hog Roast Compton to cater for your special day!