When we are planning our menus, it isn't just the end result that we put all of our emphasis on. No meal can ever be truly great if it isn't comprised of some great ingredients to begin with. That is a philosophy that the Hog Roast Chobham team have always stuck by since we started our business, and it is a principle that we will always adhere to.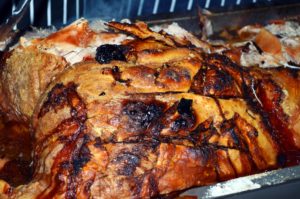 Our hog roasts are obviously the star of the show and the quality of our meat needs to always be second to none if we are to remain at the forefront of hog roast catering in the local area. We source our pork exclusively from the most established Red Tractor Assured producers of free-range pork in the UK.
As you may have seen from our menus, we also provide a range of other meats, including beef, lamb, chicken and turkey, all of which are also just as high in calibre as our pork and firmly in line with the Hog Roast Chobham team's stringent standards.
It isn't all about the meat though when we are sourcing our ingredients. We also ensure all of our fruit, veg, dairy products and baked goods are sourced locally and that we showcase the best seasonal ingredients available in our area. We have formed excellent relationships with local food producers who are just as passionate as us about celebrating fantastic home grown ingredients and how rich the local area is when it comes to the quality and variety of produce available here.
Our clients always remark on the quality of the produce that features in their chosen menus, which is made all the more prominent by our commitment to preparing all of our food from scratch on-site prior to the event. We don't rely on readymade dishes or prepare everything in bulk. All of our menus are bespoke to our clients and freshly made on the day using carefully selected and lovingly prepared ingredients.
If you would love to try the best hog roasts around and enjoy a freshly made menu that is brimming with superior locally sourced produce, please let Hog Roast Chobham know how we can help!