After having been let down at the thirteenth hour by their original catering company the distraught clients turned to Hog Roast Wormley to save the day, which the team hurried to do. The clients hired the team to put together a delicious buffet for their wedding reception. Hog Roast Wormley worked quickly and efficiently to put together a catering package that met the couples brief and budget, which was a relief to the panicked clients.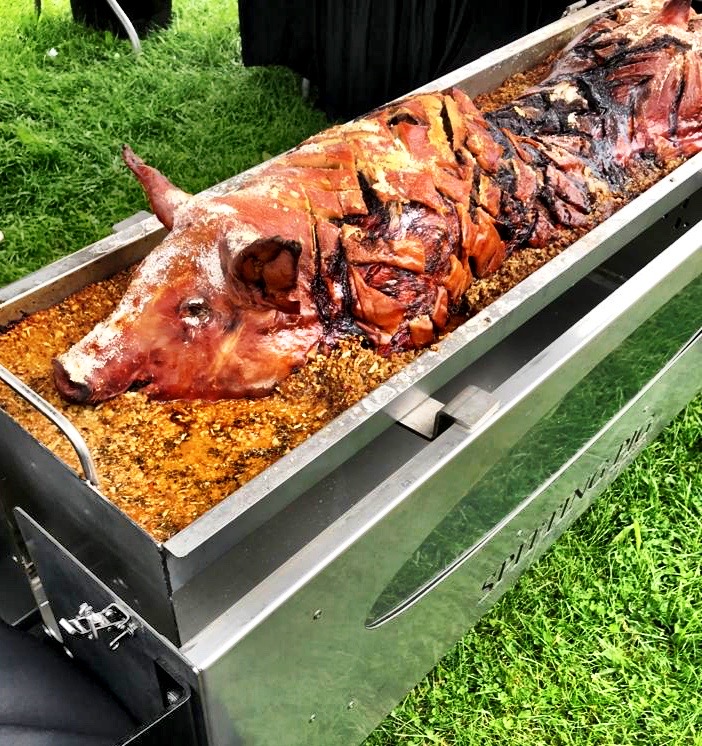 The Hog Roast Wormley team pulled together to create something spectacular for this special couple. A team of two arrived at the home garden venue of the party several hours before the ceremony and serving time, this was so that there was plenty of time to set up the cooking equipment, lights and gazebo before cooking all of the dishes.
As well as having a buffet for their 20 guests which was served at 6pm, the clients opted to have the Catering Manager from the Wormley team create a few platters of canapés for their guests to tuck into when they arrived at the garden for photos at 4pm.  The canapés the clients selected were: vegetarian mini pizza, vegetarian mini quiche, Dim Sum and Chicken Satay. There were laid out on the same table that the clients set up with glasses of various alcoholic beverages.
The buffet for the event was a tasty treat. There were lots of piping hot jacket potatoes, fresh mixed salad, crunchy coleslaw, BBQ pulled jackfruit and finally, the show stopping Classic Hog Roast. This comprised of: a slow spit roasted pig that was served with crispy crackling, homemade sage and onion stuffing, optional apple sauce and soft gluten free rolls. It was a buffet that was as aromatic as it was tasty.
Fortunately the sun stayed shining for the whole day and the clients had a very happy wedding. Their guests loved the canapés and the buffet, the clients were relieved that the Hog Roast Wormley team could rescue their wedding reception from being a very hungry celebration indeed. Instead it was full of love, good company and lots of great dishes.