Hog Roast Woking will happily cater any kind of function you may have in mind, whether that's a milestone birthday celebration for 20 guests, a wedding reception for 50 or a corporate event for hundreds. Sometimes we cater 'just because' events and we like to think that people have them just because our food is so delicious! We're busy all year-round, and even cater outside when it's snowing, but when the weather gets warmer like at this time of year, there are plenty more reasons for our customers to pick up the phone and book us in for their special occasion.
Clive booked our team at Hog Roast Woking to cook a slow-roasted hog for 60 guests in Guildford recently. Once the hog was cooked to perfection, we would serve them pigs in buns style. This means the guests would enjoy plenty of fresh, hot pieces of meat and salty, crispy bits of crackling, crammed into various bread rolls (or even wraps if preferred) and then lovingly topped with our own recipe apple sauce and sage and onion stuffing. We bring along condiments and plenty of napkins of course, and then we clear away and leave you with great memories.
Hog Roast Woking arrived at the venue a few hours before service to prepare the meat and then cook the hog from scratch in the garden. It has to be roasted slowly to ensure that it's cooked thoroughly without burning, but it's certainly worth the wait. While our trusty hog roast machine does most of the work, we have to keep an eye on the meat as it sizzles and then once done, we let the meat rest a little while before carving away.
For this party, Clive also asked us to cook some veggie skewers. We have lots of alternatives for those guests with dietary needs, especially vegetarian, vegan or gluten-free options, but with advance notice, we can cater any kind of diet. On this day, we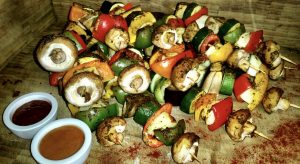 cooked some tasty vegetable skewers that were full of mushrooms, courgettes, and mixed peppers, and then we seasoned them well and served with a couple of lovely dips. These went down extremely well, as did our scrumptious pigs in buns, and then we cleared away to leave Clive and his guests with some of those great memories.