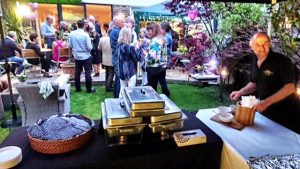 When Hog Roast Weybridge caters your springtime garden party, we do it style, feed your guests plenty of delicious morsels of food, and provide excellent service with a smile. However, we don't only do this for garden parties! We also do this for just about any kind of party or event you can think of, regardless of your budget, the number of guests invited or even the location that you choose.
We have lots of menus for you to peruse, and you'll find some are much more affordable than you might think, but we're also more than happy for you to mix and match items or even create your own menu to suit your tastes and budget. Whether you have hundreds of guests at a sit-down corporate function or just a handful of family members in your back garden, Hog Roast Weybridge will go the extra mile with tasty homemade food that will become a great memory that you'll want to relive again and again. Plus when it comes to the location of your special occasion, you don't have to compromise, as we can cater even in the middle of nowhere with our lightweight, portable, gas-powered hog roast machines.
Whatever you have in mind, Hog Roast Weybridge can do you proud. We recently catered a garden party for around 50 guests and served scrumptious pigs in buns later on in the evening. We often cater events in the evening but this was a 9 – 9.30pm serving time, which is a little unusual. We don't mind at all, however, so if you're planning a party and you think it might be too early or too late for us to serve, worry not as we can work around your needs.
For this party, we cooked a lovely, locally-sourced pig for several hours and then filled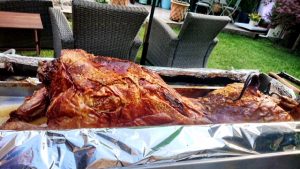 fresh, sliced bread rolls with the meat and crackling, topped that off with our homemade duo of sage and onion stuffing and apple sauce and voila – hot hog roast rolls served to dozens of hungry guests. Our food was a big hit and we left in the dark once all the guests had their fill of meaty goodness.