Many people struggle when it comes to buying birthday gifts for people who seem to have everything but deserve the world. This was the case last Sunday as we were called in to cater for Kate and Amy's mum's birthday. They had searched around for a gift for months but couldn't find anything that showed her how much they appreciated her or a gift that really stood out to them, so they decided they would put on a Hog Roast Staines instead to celebrate.
The team at Hog Roast Staines are fully experienced, professional caterers and we have catered for a wide range of events in the past but we knew this day meant a lot to the girls, so we wanted to make sure we went that extra mile to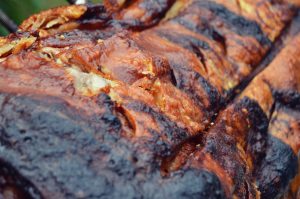 really make the food something special! We firstly got to work preparing the hog itself. Scoring the skin and then applying lots of sea salt and massaging it into the skin is how we achieve that delicious crackling every time. The girls' mum was a big fan of crackling, so we were told, so we added some extra salt to really give it that boost. Next, we diced and prepared the vegetables that would be roasted alongside the hog. We seasoned with garlic and rosemary and that was that as the machine really does the rest for us! Of course, we made sure to prepare some corn on the cob and a couple of fresh salads as these always go down a treat with our hog roasts. With the food all prepared all that was left to do was await the guest of honour…
Mary, the birthday girl, walked into her garden and was immediately awe struck! She had been expecting her girls to have prepared something special for her birthday but could not have imagined it would be quite as spectacular as a Hog Roast Staines! It's safe to say the food was enjoyed by all and as we walked away we were thanked by the girls who agreed this was the best birthday gift they could have given.