At Hog Roast Redhill, we like to pull out all the stops to ensure our clients get the best service we could possibly provide. Therefore, we give them a hog roast cooked to perfection, a friendly chat and the feeling of satisfaction. It is no wonder, then, that we have so many returning customers, who choose us every time they have catering needs.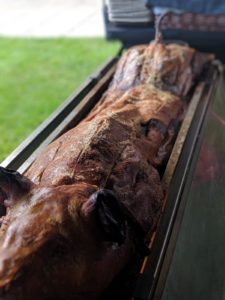 One of these returning customers is David. He was at an event where the organiser had hired us and he enjoyed the food and service so much, he has always hired us for his events as a result. He has just had another event, a birthday party, hiring Hog Roast Redhill for the third time!
His first time hiring us, for a village fair he helped organise and run, David was happily surprised at how easy working with us was. Our staff working the job were punctual and efficient, meaning he had no worries about whether people would have to wait longer than expected for food, which was something, he told us, that he had had to deal with at previous events. He was also astonished at the amount of praise he received about the food from people attending the fair. This is what has led him to become a reliable, recurrent client of ours.
This recent event was no different from the first, other than David's excitement was much greater. He was able to be so excited and prepare for the birthday party so much more, since he knew and trusted that we had the catering completely under control. He told us that he has recommended us to everyone he has spoken to and, as David spoke so highly of us, the party was full of prospective clients who were more than satisfied with the service. Not one person left the party without a full and happy stomach.
Events like these and clients like David remind us of why we are in the catering business. Not only do we love to please our clients, we also love to create friendships and bonds with them so that, like David, they return to us when they need to.