Here at Hog Roast Pyrford, we pride ourselves on the fantastic team and quality food that we produce. Our team is made up of professionals that care for customer satisfaction. All the food that is made is locally sourced from the surrounding areas. Although here in Pyrford, the population is relatively large, Hog Roast Pyrford is well known by every family. Our menus cater for meat lovers, vegans, vegetarians and also offers gluten free for those who require special options. Our flexibility as a company allows us to cater for everybody's individual needs. Children's portions are also available upon request.
Earlier this year, we were contacted by triplets, Christine, Marcus and Caroline, they explained that they wanted to surprise their mother after all she had done for them growing up. The three told us that their mother, Julie, enjoyed hog on the BBQ however she had never tried a real caterer at her events. After a phone call with Christine, we organised a date and a menu. They chose a simple main of a large, spit roasted hog, crispy crackling and stuffing, these would be accompanied by floured bread rolls and a selection of salads.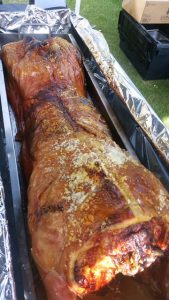 As the day of the event arrived, we turned up at the village hall in Pyrford and were greeted by the siblings. We had a large area to work in and the hall was ventilated therefore we could do our hog roast inside. Of course, the weather was pouring as expected but it didn't dampen our spirits. Our chef began setting up and rubbing the gorgeous meat in salt. This was to create our famous crispy crackling. Soon enough, the guests began to arrive and Julie was delighted to see our feast preparing in one of the hog roasting machines. After a few hours of cooking, we began serving the guests. Compliments were flying around the room amongst the 40 happy party goers. Rich, authentic smells rose from the piled plates as the guests tucked into their meals. Overall, the day was a success and the triplets, along with their mum, celebrated the birthday in style.