Like so many couples, Susie and Alex had to suffer the agony of having their wedding delayed due to the restrictions imposed by the Covid-19 pandemic. All of their carefully laid plans and excitement for the big day had to be put on ice indefinitely. When small weddings were permitted to be carried out again, they faced a dilemma – should they postpone their wedding until next year in order to have the wedding day they had originally planned, or completely re-think it in order to get married as soon as possible? After a long chat, they agreed that their main priority was actually getting married, and as upsetting as it was to abandon their original plan and dramatically reduce the guest list, they knew it was the right thing for them, and those who would now be unable to attend gave the couple their full support.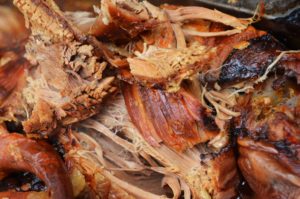 So, Susie and Alex found themselves having to plan the reception all over again and they decided the best option was to hold it outdoors. They wanted a catering company who could give them food that was befitting to their big day whilst being adaptable enough to do it all in an outdoor setting and they decided that the Hog Roast Milford team fitted the bill perfectly! They loved our wedding menus and were very impressed that we make all our food from scratch on-site.
They also felt very reassured that the safety, comfort and enjoyment of our clients are our top priorities, and that we put very strict measures in place to ensure social distancing and hygiene requirements were adhered to whilst at the same time treating the wedding party to a lovely meal. They opted for one of Hog Roast Milford's more simple yet elegant wedding menus, which included a classic hog roast served with jacket wedges, homemade coleslaw and a vibrant crispy Thai salad, along with veggie skewers with tzatziki and pitta breads for their 2 vegetarian guests. Whilst this menu option was originally designed as a buffet style service, we adapted our approach to limit the level of interaction at our serving table, and it gave us immense pleasure to see how much the bride and groom enjoyed their day. It may not have been the large wedding reception they initially had planned, but the Hog Roast Milford team helped to make their day very special nonetheless, with our fabulous freshly made food and versatile approach!