Hog Roast Litlington loves a wedding, and with our renowned event catering service your wedding dining experience can be one of the best, most stylish available in all of the UK. We provide a better way to dine for your most special occasion in life!
At the beginning of the month Liam and April called us for just that: a stylish way to dine for their beautiful wedding held at Ayr's famous racetracks. Hog Roast Litlington were of course more than happy to oblige, and after hashing out a few details to ensure April and Liam got their perfect menu and service style we were hitting the road, a truck full of foods and equipment in tow!
To begin the event guests were welcomed into the reception area by the Hog Roast Litlington serving team with a glass of wine or juice. Once guests had gathered and the bride and groom were ready everyone was ushered into the ceremony hall for the wedding itself. During this time Hog Roast Litlington continued to prepare entrees for as soon as the service was over, and the kept things ticking over for the dinner to follow. And sure enough, as the service ended and guests returned to the reception area the Hog Roast Litlington team was there to offer guests a celebratory glass of champagne and circulated the room with entrees of pan seared beef, gourmet sausages, mini quiches and pizzas, and small salmon bites with cracked pepper on fresh bread.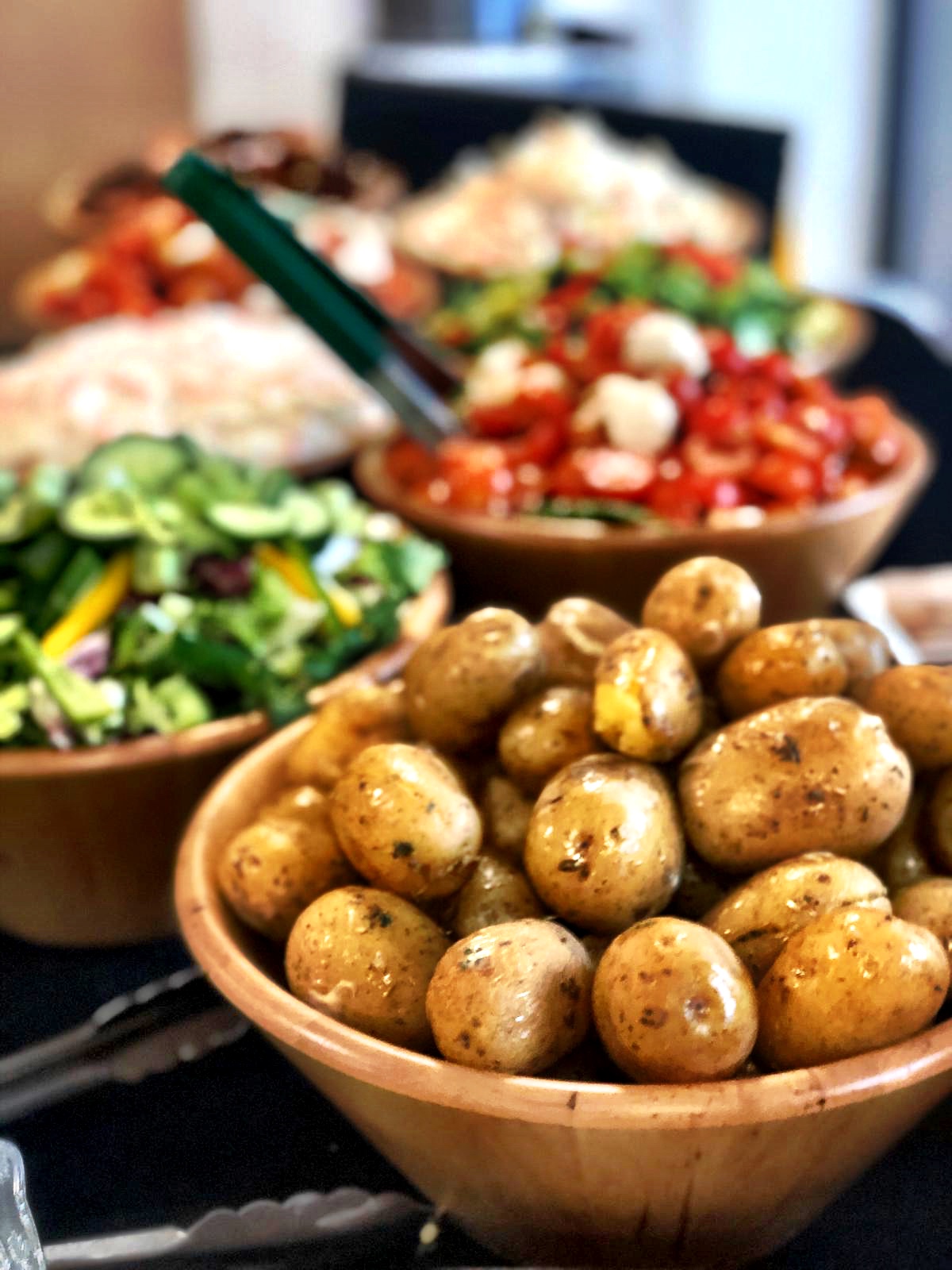 Guests were then brought to the dining hall wherein we unveiled our hog roast buffet, complete with two roast pigs, a roast turkey, baby new potatoes, homemade coleslaw, BBQ jackfruit, bread rolls, fries, tomato and mozzarella salad and a seasonal mixed salad. The meat was spit roasted throughout the day in our renowned hog roast style, and then carved up professionally by our chefs for the buffet servings. The result was a delicious spread that had guests up for seconds and sometimes even thirds, with still plenty to take away again at the end of the night!
A brilliant catered event once again from Hog Roast Litlington, and we wish all the best to the happy couple!