As someone with a passion for the arts, aesthete, Anthony was keen to host an exhibition to celebrate rising artists in the local area and inspire others to pick up a paintbrush; but with over 200 people sharing his enthusiasm for the event, he knew that his go-to tray of homemade cheese and ham finger sandwiches just wasn't going to cut it this time around! Instead, Anthony decided to get in touch with Hog Roast Guildford where he was able to choose from a vast selection of expertly curated menus, and with a little help and guidance from our friendly team, the client was able to find the perfect feast for his occasion.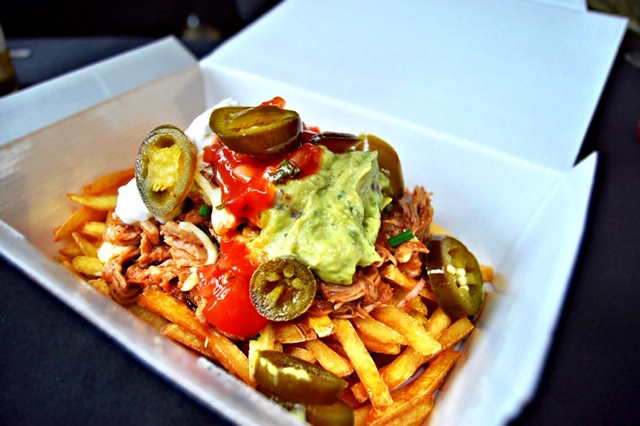 After selecting our classic hog roast buffet with an added side option of our newly landed, loaded fries, Anthony felt confident in leaving the Hog Roast Guildford catering crew to handle the remaining details of the event while he updated the guests. But soon after the news of our involvement was shared, Anthony received an influx of messages from interested parties who were hoping to secure a remaining ticket for the event. Fortunately, our team is always prepared for last-minute changes and with a few minor tweaks to the menu, the 25 unexpected extra guests were welcome to attend.
Following our trusty satnav, the Hog Roast Guildford team found themselves arriving at Anthony's chosen venue; and with over five hours to spare before the exhibition opened its doors, they piled inside to set up the catering equipment. Before long, they had successfully transformed the raw ingredients into a mouth-watering feast of slow roasted whole pig with all the trimmings, grilled veggie skewers with optional haloumi and golden French fries smothered with melting cheese and jalapeno toppings that were as stunning to look at as the artwork hanging on the walls.
Anthony's event was as much a feast for the appetite as it was for the eyes and as ticket holders wandered around the brightly lit hall in search of new artwork to adorn their homes with, they made sure to keep their disposable plates topped up with the delicious food.