When it comes to deciding on the menu you'd like served at your next special occasion, Hog Roast Gomshall can help you or you can create your very own if preferred, by mixing and matching items within our extensive menus. We're highly flexible when it comes to our customers and we're also proud to offer a great amount of choice and variety in order to satisfy various personal tastes as well as special diets too. Whatever you may be thinking of having us serve at your next party or event, we've got options for everyone.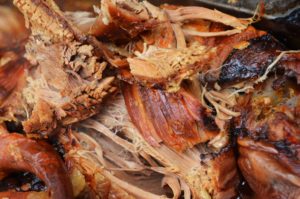 With a Hog Roast Gomshall hog roast made into pigs in buns, you'll certainly wow your guests with soft and tender meat, salty, crispy crackling and delicious homemade trimmings of apple sauce and sage and onion stuffing, while a plated meal includes your choice of seasonal vegetables and potatoes too, as well as trimmings of apple sauce, stuffing and onion gravy. Our signature food is a big hit with customers old and new but so are our spit-roasted alternatives of whole English lamb, sirloin of beef, chicken and turkey, and we also offer various standalone menus to tickle your taste buds too.
Our Southern Slow Roast features your choice of three marinated meats and four sides, from a long list, so you could be enjoying pork butt, sticky pork ribs, beef brisket, mac and cheese, corn cobettes, a Greek salad and seasonal vegetables, for example, or whole-roasted chickens, minted lamb, pork, potato salad, coleslaw, fries and a seasonal green leaf salad instead. We also offer Loaded Fries, a Traditional Barbecue and an Italian-style Alfresco as well. If you prefer to design your own menu, you can decide on tasty canapés, starters, sides or desserts to add to your main – it's all up to you.
As you can see, we can make so much more than a hog roast and our talented Hog Roast Gomshall chefs and catering assistants always work hard to ensure that everyone invited gets to enjoy delicious homemade food. Whatever you'd like to dine on at your next special occasion, we've got you, so call today and get booked in.