You may not know that Hog Roast Givons Grove has so much to offer to our customers in addition to our delectable hog roasts. While our signature food is adored far and wide, whether served as pigs in buns or part of a plated meal, we've always understood the necessity of offering alternative options, as well as additional possibilities, in order to cater for all kinds of personal tastes and special diets, so regardless of the menu you're thinking of featuring at your next special occasion, we have something for everyone within our menus or you can even create your own from scratch, with your choice of canapés, starters, sides or desserts to add to your main.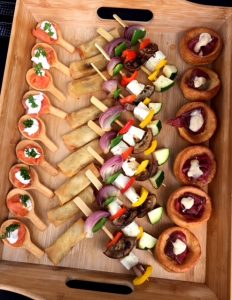 If you're planning on having a hog roast centrepiece all by itself, we can easily do that for you and your guests, but if you'd rather have spit-roast lamb, turkey, chicken or beef, for instance, that's fine too. If you'd like to feast on something a bit more exotic, just let us know, or you could choose one of our specialty Hog Roast Givons Grove standalone menus to wow your guests instead at your forthcoming party or event, like our Southern Slow Roast, Barbecue, Alfresco or Loaded Fries.
In this particular blog, we're singing the praises of our stunning Southern Slow Roast, which gives you three mains of marinated meats that are slow-roasted on the day, as well as four hot or cold sides, and you get to choose everything that'll be served in advance when you book. You first select your trio of meats from beef brisket, Cajun chicken, sticky pork ribs, BBQ pork butt or pulled quarter of minted lamb and then decide on your four sides from coleslaw, a green leaf salad, a Greek salad, mac and cheese, potato salad, fries, corn cobettes, roasted baby new potatoes and seasonal vegetables. You'll then have an amazing feast for you and your guests to devour and we're sure that everyone will be wowed by the food you've chosen.
Whether you fancy a Hog Roast Givons Grove Southern Slow Roast or something entirely different, give us a call today and see how we can make your next special occasion a great success.