When Hog Roast Frimley caters your special occasion, it's with fresh, local, ingredients to make delicious, homemade food that everyone invited can enjoy. We've spent years perfecting our hog and spit roasts but we've also spent a long time ensuring that we can cater various diets too, as we want all our customers and their guests to be able to eat at any kind of party or event. Whether you're inviting vegetarians, vegans or guests with a gluten intolerance or allergy, or something altogether different, Hog Roast Frimley will do you proud.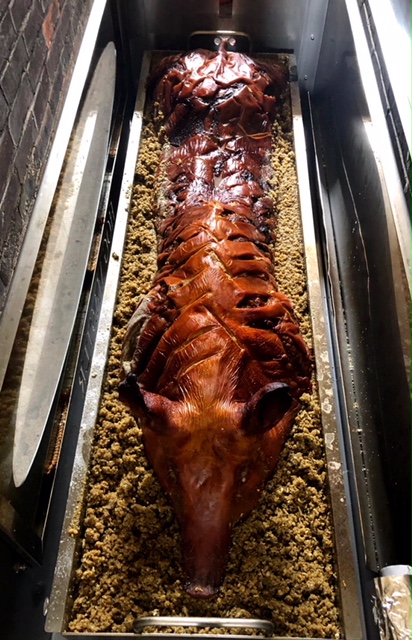 We recently catered a double birthday party for twins Courtney and Jenny locally, where we had been asked to cook one of our traditional hog roast centrepieces to make pigs in buns for most of the forty guests but we were also asked to provide a plant-based option too. Slightly different to vegan, plant-based is focused on eating vegetables, fruit, nuts, seeds, grains, beans and suchlike, and we have various suitable and tasty dishes that our chefs can whip up, like stuffed mushrooms or peppers, or our hugely popular veggie skewers, which usually feature halloumi, which we omit for a plant-based or vegan option. Courtney and Jenny knew their plant-based guests would like to try the latter, so we booked them in for skewers for two and a hog roast for thirty-eight.

It came round to the joint 21st party on Saturday, and our Hog Roast Frimley chef and catering assistants arrived well before the birthday girls or their guests – several hours before, in fact. It takes an age to roast a hog once we've prepared the meat from scratch, and it cooks slowly at a low temperature until we get a fabulously soft, tender inner and a crispy, salty outer, full of lovely crackling. On this day, it would be no different.

Later on in the day, while the hog was sizzling in its own juices, we freshly prepared the local vegetables for the skewers – baby tomatoes, slices of courgette, mixed peppers, red onion and mushrooms – and then grilled them. Once the hog was resting, we prepared the pigs in buns ingredients and then it was finally time for everyone to queue up for a scrumptious bite to eat.