When Sylvain asked Hog Roast Ewell to cater his private party at home with family and friends, he knew one thing – it had to feature one of our famous traditional hog roasts, made into our tasty, highly sought-after pigs in buns.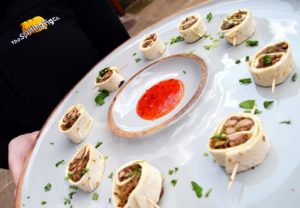 To make our heaven-sent delights, we take a high-quality, locally-sourced pig to your venue and prepare and cook it there, so it's fresh, hot and tastes delicious. After scoring the meat all over in diagonal shapes, we cover it in plenty of water, to keep it moist throughout the cooking process, and then massage in lots of salt, which creates the crackling. After roasting slowly at a low temperature for hours on end, our chef then carves off the crispy crackling, slices up the soft, tender meat and adds both to fresh, floury bread rolls (or wraps if preferred) and tops with our own-recipe apple sauce and sage and onion stuffing. There you have it – mouthwatering pigs in buns Hog Roast Ewell style!
On the day of Sylvain's party, which he had organised to celebrate his partner John's 60th birthday, Hog Roast Ewell arrived bright and early in the afternoon in order to set up our equipment in the large back garden and start preparing the meat. Once our gazebo was up to protect us from the hot summer sun and our trusty hog roast machine and serving tables were ready, our chef cracked on with this task and before too long, the large hog was sizzling away slowly.
We are often asked to cook at home in people's gardens and yards and as long as there is enough space, it's never a problem. For this party, more than sixty guests had been invited to celebrate John's milestone age and our team served a selection of handmade canapés to welcome them, followed by mountains of our amazing pigs in buns for the main course, and then Sylvain brought out a huge, beautifully-decorated cake that we sliced up and served for dessert, together with fresh fruit and a tasty coulis.
By the end of service, the hog had been stripped clean and the canapés and cake had too, and we quietly cleared away and left the partygoers to dance the night away.