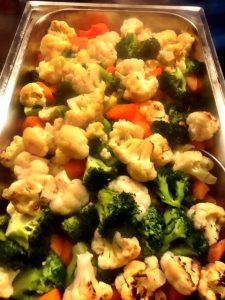 We had the chance last week to pay homage to our hog roasting forebears, when we were asked to provide a traditional slow-cooked feast for a medieval themed party showcasing the impressive avian residents of a local bird of prey centre! The centre had decided to organise a party to attract more visitors, raise awareness about the hard work the centre does and put on a great show for everyone! A medieval theme seemed the most befitting to the event and setting, so they required a catering company who could cook outdoors, provide high quality, value for money grub and compliment the theme, so Hog Roast Dorking was the only way to go!
So, we found ourselves sharing a field with the bird handlers, all adorned in gauntlets and armour and several mighty eagles, majestic owls and fearsome falcons-a day in the life of the Hog Roast Dorking team is certainly never dull! Our own knights in shining armour were not remotely perturbed by being up close and personal with our imposing winged companions, because we are able to swiftly adapt to any environment we cook in, which is why we can produce such awesome spreads regardless of where we are!
We spent the morning preparing our slow-cooked medieval banquet of traditional locally-
sourced hog roast, fluffy roast potatoes and seasonal vegetables- all made from scratch as at the venue of course!  By the time the birds were ready for action, the pork was smelling delicious and the visitors were warmly welcomed into the display area. The expertly trained birds of prey wowed the crowd as they swooped through the air, soaring and diving dramatically, but always returning to land neatly on their handlers' outstretched arms. As the ripple of impressed applause died down, the chef was ready to carve the meat and it was evident the spectators were torn between tucking into our hearty fare, and taking the opportunity to get a closer look at the birds! Thanks to our relaxed buffet style service, as requested by our hosts, everyone was able to enjoy the food and the birds at the same time and they all agreed our food was the perfect choice for a medieval themed bird of prey party!