Hog Roast Cranleigh caters for various personal tastes, so we offer scrumptious spit-roasted meats as well as our signature food, various tasty dishes for vegans, vegetarians and flexitarians, and we also provide options to cater for food allergies and intolerances, but we understand that you may also be planning on having a menu of multiple courses and for that reason, we offer lots of possibilities of canapés, starters, sides and desserts too.
Whatever kind of menu you may be thinking of, our Hog Roast Cranleigh experts will prepare your food well in advance in plenty of time on the day of your party or event, cook it all perfectly (and with the top-quality local meat that we source, it's often for several hours, slowly but surely) and then we serve exactly what you asked for at the optimum time. If your menu will include additional courses, this is all taken into consideration, so you'll often see our chefs and catering assistants freshly preparing various other dishes of yours while keeping an eye on the meat that's sizzling away for an age.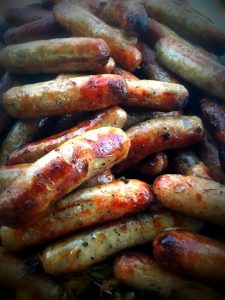 As an example of a multi-course menu, if you fancy a selection of appetisers to welcome your guests, we could make gourmet sausages, Indian delights, mini fish and chips, beef fillet, halloumi and tomato crostini, and serve with or without refreshing drinks if you prefer. We could then serve a homemade plated starter or two to the tables, like Gressingham duck breast, served pink and accompanied by an orange and pomegranate dressing and some seasonal leaves, or smoked Scottish salmon with Atlantic prawns, a Bloody Mary sauce and a dill and mustard dressing. You may want more than one main and we can cook up a storm or two with a hog roast as well as spit-roasted beef or lamb or some free-range turkeys or chickens, all accompanied by suitable homemade trimmings and your choice of sides. Then you could finish your meal off with some scrumptious desserts, such as profiteroles and summer pudding.
To find out more about our many other possibilities, contact Hog Roast Cranleigh today and we'll help you to plan the perfect menu.