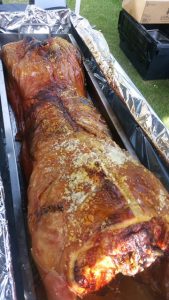 After realising that their new shed wasn't going to build itself and that her husband Darren wasn't going to do it either, Rachel decided it was time for drastic action if their garden was going to be looking good for summer. They needed help and they needed it fast, but as DIY isn't always the most fun thing to spend your weekend doing, how could she persuade all of their mates to give up their free time to help them out? Rachel suddenly had a brain wave and thought of a way to make it fun- they could throw a shed building party and bribe all of their friends to get stuck with one of Hog Roast Cobham's delicious outdoor buffets!
We don't just cater on a grand scale-we also have a range of private party menus for smaller events and venues (partially done back gardens included!) and we were able to advise Rachel on the best options to suit the size and style of her party. Rachel simply wanted great food served in an informal style, that would be convenient to eat outdoors amid piles of wood and tins of paint! We assured Rachel that we are able to adapt to any environment without the quality of the food being impaired and we would quite comfortable cooking in a shady spot on the other side of the garden whilst Operation Shed was taking place!
On the day of the big build, Hog Roast Cobham spent the afternoon cooking the hog to slow-roasted perfection as we watched the construction crew at work. With all hands on deck, the garden was a hive of activity as the Rachel, Darren and all their friends hammered, sawed and painted their way to shed building success, all the while spurred on by the scent of the hog roast wafting across the garden! As their reward for a long overdue job well done, we served up the informal but high-quality buffet, which everyone enjoyed tucking into immensely whilst admiring their handiwork. After putting the dreaded build off for so long, Rachel and Darren ended up having a really fun and productive day with all of their friends and now have a snazzy new shed just in time for summer. The couple said they would never have managed it though, without the help of Hog Roast Cobham!