Are you planning an event and looking for exquisite catering that will suit all tastes at an affordable price? Then look no further than Hog Roast Cobham. We offer hog roast catering for all events from birthdays and weddings to BBQs and christenings. We even cater for private parties and can accommodate any number of guests due to our flexible style of cooking.
You simply choose a menu, which we then tailor to your needs and tell us the date and location and we do all the rest, so you can enjoy your event! Last Thursday saw us cater a private party for Janet. On this occasion there was no special occasion just a gathering of friends for a catch up and a good meal. As Janet informed us, a long-term customer of us, it may also have been a cheeky excuse for a Hog Roast Cobham!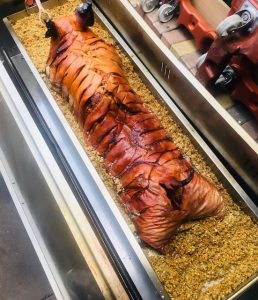 As there were only going to be a handful of guests we agreed with Janet that one small pig slow roasted for a few hours with a couple of sides of our freshly baked rolls and applesauce would do perfectly! As we arrived and set up in Janet's back garden we assured her that the food would be ready on time as always and she could feel free to go and chat with her friends. We scored the meat making sure to add extra salt to make the crackling that Hog Roast Cobham has become known for and set our trusty hog roast machine to work.
In what felt like no time we were ready to serve. Janet, eager as ever was first in line and she couldn't resist telling us just how wonderful the hog tasted. That's one of the benefits of our style of cooking, as we use our tried and tested machines we know that each hog will be cooked to perfection every time. The other guests were delighted with the offerings and there was no shame in coming up for seconds and even thirds, which is just how we like it!
It is always a pleasure to cook for customers like Janet and we have no doubts we will be seeing her again soon once there is another occasion to plan….