Here at Hog Roast Chertsey, we have various menus for you to choose from and you're welcome to create your own from them if preferred, and that's whether you fancy a main all by itself, a main and a couple of sides, a great banquet of courses to include canapés, starters, mains with sides and then desserts, or anything else at all. We also have a few standalone menus of our own to select from, however – our Southern Slow Roast, Loaded Fries, Alfresco and Barbecue – if you'd rather make it easier on yourself and you can adapt certain elements in order to make it ideal for you and your guests, so one of these could well be the best decision for your next special occasion, whatever that may be.
This blog will tell you more about our Hog Roast Chertsey Barbecue, which we serve at any time of the year and not just in the summer months, and which consists of some gorgeous grilled meats as well as both hot and cold sides, and we can also provide dishes for particular diets if needed too; you just need to let us know any requirements when you book with us and we'll help you to choose those options.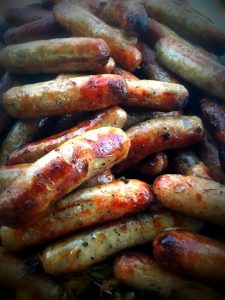 Our informal-style Barbecue is a wonderful treat for your party or event guests, both to look at and taste, and once we've started cooking, the surroundings will be full of meaty aromas that no one can get enough of. We grill 100% beef burgers which we make by hand, as well as our chef's special gourmet sausages, chicken kebabs and marinated spare ribs, and while they're cooking to perfection, we freshly prepare your Greek salad, which is full of feta, olives, tomatoes and cucumber, and our homemade coleslaw. We also serve chips or sweet potato fries, or you can ask us for a mixture of both if you like, and we take along fresh-baked rolls and wraps too.
So for your next barbecue, order one from Hog Roast Chertsey and let us do all the hard work while you sit back and relax with your guests and enjoy a delicious feast.