We pride ourselves in producing quality food for our guests at every single event with Hog Roast Chelsham. Large or small it makes no difference to us as each event is given the first class treatment by us. Last week we catered for a small event just 50 guests for a small family gathering but as always we were out to impress!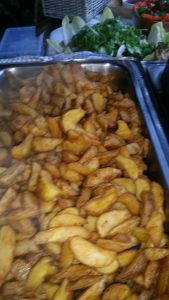 We arrived early morning as we were serving the Hog Roast Chelsham at noon and greeted by a lovely gent, Sid, who told us he couldn't wait to try our food he told us that we came recommended by friends whom we had previously catered for. We made an assortment of food we placed some chicken breasts onto cook along with some beef and as the meats cooked we made some dressings and dips these little extras always compliment the meat and we like to add lots of flavours for guests to enjoy. We then set about making some potato wedges. We chopped some potatoes and drizzled them in oil and added some spices and set them onto cook and then we made some salad bowls and added some freshly baked wraps to the table and we were ready to serve. The guests came over and chatted to us saying that the smell was amazing and they didn't have long to wait to sample as right on time we began to serve.
The beef was so tender and we placed the beef in the wraps added salad and the guests helped themselves to sauces and dips. The potatoes wedges went down really well too and the guests were saying how delicious they were. Sid told us that the beef was the best he had ever tasted when we removed the chicken the guests all gasped at how tender the chicken was and asked us how we do it? We said there is no real secret just the use of first class machines make our job so easy. We handed out some cards as we left and all were eager to take one and we felt sure we would be getting some call backs at a later date. Sid told us when we left that he will be booking us again in the summer for another Hog Roast Chelsham, we said it would be our pleasure.