Whilst catering forms a huge part of what we do here at Hog Roast Caterham did you know that we also hire out and sell our trusty hog roast machines to the public? So that means anyone, including yourself, could be roasting a succulent hog from scratch in the comfort of your own home!
The reason we allow our clients to hire our machines is because we realise that purchasing a machine like this is a huge investment for most people. We want you to be able to 'try before you buy' and have the opportunity to get any questions answered and for you to get the most out of our machine so that you can get as much enjoyment as possible out of hog roasting for years to come.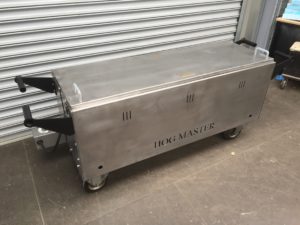 This week we had a call from Alex who had seen our website and was intrigued about the possibility of cooking her own Hog Roast Caterham. As always, the first thing we do when we get any enquiries like these is to invite the customer to visit our factory in the north west of England where we showcase all our machines and you, the customer, have the chance to speak to or engineers and take a crash course in hog roasting. On this occasion Alex unfortunately couldn't make the factory visit due to other commitments but we assured her this was an open offer that she was able to take up any time, even after she booked in with us.
Despite this, Alex decided to go ahead and hire one of our most popular machines, the Hogmaster Pro. This machine is ideal for first time caterers as it is small yet efficient. It can roast a small hog and accompaniments in just a few hours and all that is needed from the chef is a quick check every couple of hours to ensure the food is cooking evenly. As she had not been able to visit the factory, we arranged for our Hog Roast Caterham head chef to visit Alex when the machine was dropped off as a courtesy and to give her an induction to hog roasting and of course some recipe tips. After this, Alex was all set to get started on her hog roasting journey…