There is just something so special about hog roasting this time of year! We all agree here at Hog Roast Dunsfold that it is becoming our favourite season to cater. We were doing an out door event last week and there was a nip in the air as we arrived early morning but we set up our gazebo and once the machines were put on we were as warm as toast.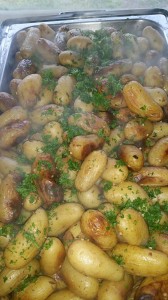 We were catering for a local football club with a Hog Roast Dunsfold for their annual party and the first time we had been to the area which was very rural and so pretty. We set out the tables and covered them in cloths and as the chickens cooked happily away we set about dicing and slicing a mountain of salad leaves and vegetables then placed them in huge glass bowls and made some tasty dressings and dips and set them aside in bowls. We then made a big bowl of coleslaw so creamy and crunchy it really is a speciality of ours and people can't get enough of it once they taste it. We placed lots of fresh wraps in baskets for the guests to enjoy and very soon we were done just as the hungry crowd arrived telling us they were starving!
They pilled their plates high with the delicious food and all had huge appetites the chicken was so moist and tender and full of natural juices we are always told by everyone who tastes our food for the first time that they are amazed at how tender the meat tastes the meat literally melts in the mouth and retains all the goodness without drying the meat out. The guys cleared all the plates and all were saying how wonderful the food was and it was better than the usual they had had in the past. As we left we spoke to the proprietor and he said that he would get back to us in the future for other events they host that did please us leaving an event with a possible booking but we are happy to say that often happens for us here at Hog Roast Dunsfold.