We are very busy these next few months but to be perfectly honest we are busy the whole year through here at Hog Roast Hooley. There is always an occasion to be catered for what ever the season and this time of year is becoming our favourite!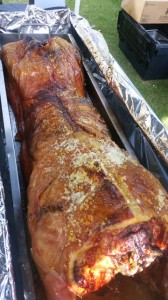 On Sunday we were like big kids as we chatted in excitement travelling north to cater for a firework display. We all love fireworks and what better way to enjoy them than with a hog roast Hooley. Catering in a field but not a problem, within ten minutes we had our huge gazebo erected and then started to unload the van the organisers were hard at it organising the display as we began to cook. We had brought with us hundreds of sausages, huge bangers full of beef and perfect for the occasion! As the sausages cooked our chefs began to make the hundreds of vegetable skewers, pieces of tomatoes, cucumber, mushrooms and peppers were put on sticks and placed on the other huge machine. We also made some salads, coleslaw and dips and unloaded the never ending boxes of buns onto the table. We had enough food to feed an army with ou rhog roast Hooley!
As soon as we opened up the sides of the gazebo we were met by hundreds of hungry guests all ready to eat. We soon had a huge queue forming, which we quickly got through; the guests enjoyed plates of food and it seemed to never end the guests kept thanking us saying how delicious the food tasted and that really pleased us to hear nice comments. Just as we finished serving we joined the guests and watched the fireworks, they were splendid and the display was breathtaking! We got chatting to guests who asked us about catering for them we handed out lots of cards and lots were eager to book with us which is what normally happens. We cleared away as the fireworks ended and chatted to the organisers who thanked us to and asked if we could cater for them next week as they were heading to a new town to do it all again how could we refuse! We are always more than happy to accept.