This week we catered for a very special event for one of our dearest customers, Jim. Jim had hosted several Hog Roast Redhill in the past, but he told us over the phone that this one had to be the best yet as he had organised a small family reunion for himself and his siblings who he had not seen for many years. As a child Jim grew up in Australia but came over to the UK when he met his wife Lynn. However, he had had to leave his family behind and unfortunately, they had never been able to visit…until now!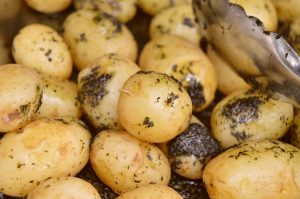 As this was such an important event for Jim and his family we knew everything had to be absolutely perfect. We assured Jim that we would take care of all the logistics and planning of the catering and he could focus on getting his family together. Our head chef then talked to Jim and they settled on a menu of some spit roasted Cajun chickens along with sides of corn on the cobb, that would be smothered in butter, and some herb roasted potatoes and a couple of seasonal salads to top it all off. As this was just a small family affair they didn't require too much food but as always, we made a little extra as we know that people love to enjoy our Hog Roast Redhill leftovers.
It was an emotional moment for all involved when Jim reunited with Sue and Lee, his long-lost siblings. They had even brought along their own children too and it was the first time Jim and Lynn had met them, so it was a very heart-warming moment with everyone catching up we began to serve and for the first tie in the day there was a moment of silence as everyone chomped down on our Hog Roast Redhill.
After everything was packed away and leftovers put in the fridge, we were thanked by Jim who promised it wouldn't be long before he ordered another Hog Roast Redhill and vowed that he would be getting his family together again very soon!