Whether you're after simple food for an informal party or extravagantly formal catering for a more special occasion, Hog Roast Woking can easily fulfill your wants and needs. As the country's leading hog roast caterer, we are known for offering a huge variety of options using superior ingredients and with a highly-skilled and professional team at your disposal. Having utilised our services in the past already, Jacob and his partner Sam recently booked us to cater their engagement party over the weekend with a Hog Roast Woking, which was a surprising mix of both informal and formal features.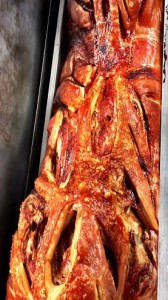 In terms of the food, this was fairly informal, as the couple wanted us to supply our fully-inclusive hog roast Woking catering service for the main meal. This includes a pig roasted for several hours at your chosen venue, then served by our team buffet-style on bread rolls with our own special apple sauce, stuffing and crackling carved straight off the hog. Additionally, Jacob and Sam wanted jacket wedges, baked potatoes, a fresh green leaf salad and coleslaw – partly for a couple of vegetarian guests but also as extra food for the whole party.
We arrived at the local hotel venue today and set up the gazebo and equipment, ready to start the hog roast off. After preparing the meat, we turned the machine on and voilà – it was cooking away for around 5 hours. For 60 guests, this large hog would feed them more than comfortably on real plates, especially with the additional salads and potatoes provided.
A few hours later and we were serving lots of happy, well-dressed guests in the hotel grounds. All the carnivores seemed to enjoy our hog roast immensely, because by the end of the night the pig had been stripped of all the meat, and there was none left to be seen on the serving table. That's a great compliment for a chef as myself, to see all the food eaten, and at this party, there were no potatoes or salads left by the time we left, either. Happy that we had done exactly what we had set out to, we discreetly cleared away and left the guests to dance off their full stomachs.