Corporate events are notoriously not synonymous with great food, but this is something Hog Roast Ewell is determined to change! We offer corporate catering for any number of guests and can provide plenty of food for any dietary requirements and due to our flexible cooking method, we will always serve on time!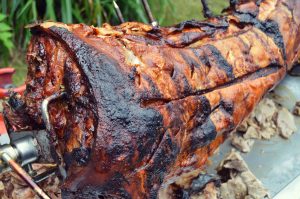 This week we were asked to help out at a local factory's end of sale party. This was where the bosses put on lots of food and entertainment to thank their employees for all their hard work over the busy sale period. The factory owner, Ralph, had asked us to provide a no expenses spared Hog Roast Ewell dinner as this had been the factories most successful sale period yet. Luckily for him, a Hog Roast Ewell dinner does not break the bank as we provide fully affordable delicious catering for any event.
For the menu it was decided to have a traditional spit roasted hog that would provide the centrepiece for the event which was being held in the factory. There would be entertainers moving around the tables, so we only had a small space in which to cook and serve from, but this was no issue as all we really needed was our trusty hog roasting machine and a table for the accompaniments. The accompaniments in this case were roasted seasonal vegetables and a variety of salads along with lots of crunchy coleslaw and roasted potatoes in a herby butter.
As Ralph's employees arrived they were awe struck. In the past these events had been elaborate, but they had never seen a Hog Roast Ewell spit roasted hog before and were amazed. We got countless comments on how delicious the meat looked, and everyone was eager to taste it.
It wasn't long after serving began and we already had people coming up for seconds which is just the way we like it! Well done everyone on another successful year!