This week the team at Hog Roast Ewell were busy catering for a new event. We had been asked to come in and provide a luxury Hog Roast Ewell meal to recent graduates of a six-week internship scheme held by a local company. After all their hard work the staff wanted to send them off in style so thought a hog roast would be the perfect option.
As it was only a short drive away we didn't have to set off too early but still left in plenty of time to roast a hog to perfection. We set up under a marquee to protect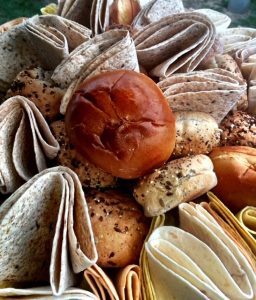 us from the blustery winds, but luckily our hog roast was there to keep us warm. Our head chef gently scored the skin of the hog, large enough to feed sixty people, and smothered the skin in salt to create that crunchy crackling we all adore. For the accompaniments we prepared lots of seasonal vegetables that we roasted in a tray with the hog. There was an array of fresh salads that included one of our new crispy Thai salads that adds an oriental twist. We finished this all off by whipping up our delicious homemade applesauce that really is the icing on the cake!
When the guests arrived, they were welcomed by the powerful, mouth-watering aroma of a Hog Roast Ewell. In no time we had a queue that stretched right around the marquee, but our brilliant team were fast at work serving everyone their sharing of the roast. After everyone had been served there was an announcement from the organisers. As everyone who participated in the internship had done so well these past few weeks the company was offering them all full-time jobs! What a fantastic end to such a lovely day – good luck to all the new employees!