When our long-term customer Tim called us about catering a mid-afternoon corporate hospitality event that he had in mind for his 100 seated guests of staff and various clients, he knew that we could easily accommodate that amount of guests and even many more, as he has used our services several times in the past for large parties. He asked us to set up one of our larger marquee tents in the gardens of the workplace and to provide a mouth-watering Hog Roast Ewhurst for most guests, plus some additional options for those with dietary requirements; from vegan to gluten-free, we can cater for just about any diet you need.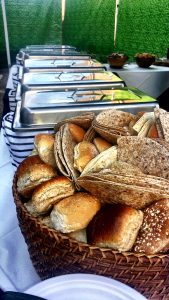 Our Corporate Hospitality Menu 1 gives you tasty snacks in rolls or wraps, and this particular Hog Roast Ewhurst would be an informal meal served buffet-style, with hog roast rolls for most. We would slow-roast the huge pig on-site for several hours and then cram pieces of the meat and crunchy crackling into the soft, fresh rolls, and add stuffing and apple sauce. Tim asked us to prepare some green leaf salad and coleslaw dishes on the day, as well as a heap of baking potatoes. Condiments and serviettes are also supplied, and the Hog Roast Ewhurst team discreetly clear everything away afterwards.
For the additional food, we were asked to feed 2 vegetarians and a vegan, who could all enjoy our lovely homemade stuffed mushrooms on the day, and they could eat the baked potatoes, salad and coleslaw too, as they are all suitable. While we bake the potatoes inside the hog roast machine, they are kept separate to the meat.
Fast forward to Friday morning and our team arrived nice and early to start prepping the extra-large hog for its roasting. Once done, it would slowly cook for around 8 hours. It takes longer in winter and this was a huge beast, too!
At 3 p.m. the guests started to arrive and the wonderful aromas filled the marquee tent, enticing the guests towards the hog roast, which we were finally carving up. We had so many compliments and future bookings on that day, and Tim was glad that he'd made the right choice in choosing us to cater for his company again.