Hog Roast Frimley often caters corporate events, both nearby and further afield, and we've provided tasty food for all kinds of business functions over the years. From conferences to staff Christmas parties, and product launches to networking events, we have the expertise and the capabilities to cater huge events with hundreds of people or much smaller functions with just a few people if needed. Contrary to popular opinion, you don't need to have lots of guests to use our catering services – we are just as at home preparing, cooking and serving food to a small group of people, and that's just what we did recently for a local business.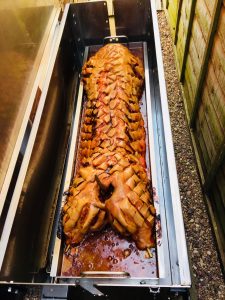 When John called us to ask about our prices, he was concerned that we would either say we couldn't book him in because his needs were too small or that we would overcharge, so he was surprised to hear about the cost of a hog roast for less than ten people. Here at Hog Roast Frimley, we believe that everyone should get to eat our lovely food, and John was excited to book us for his events marketing party, where he wanted to treat his employees to some tasty grub as thanks for all their hard work.
Having heard great things about our services from other businesses, John asked us to cook our Corporate Menu 1 of hog roast rolls. We have perfected our speciality dish over many years and it's a very popular option with our customers and their guests and it's no wonder why. We prepare the meat by scoring it all over and then add water and smother with plenty of salt, slow-roast for hours and then cram bits of meat and crackling in soft bread rolls (or wraps if preferred), add a dollop of our own-recipe apple sauce and stuffing and then serve while nice and hot. Admit it, your mouth is watering at the sound of it!
Our Hog Roast Frimley team arrived at John's offices bright and early yesterday and got on with setting up our equipment and preparing the meat. After a few hours, there were tempting smells all around and the hog roast centrepiece looked delicious, and it was finally time to serve John and his staff plenty of pigs in buns.